Back to product overview
Optima Leaf-Si+ is a liquid foliar fertilizer based on a high concentration of directly absorbable orthosilicic acid. Silicon increases resistance to abiotic stress and supports various plant processes, such as photosynthesis and water management, during stress.
Optima Leaf Range
Optima Leaf-Si+ is part of the Optima Leaf+ range, a product line of foliar fertilizers that are efficiently absorbed by the crop. The '+' stands for the presence of supplement trace elements. These prevent one-sided fertilization and demonstrably increase the effectiveness of the product.
Functions of silicon
Increases resistance to abiotic stress.
Strengthens the cell walls.
Increases yield.
Factors affecting silicon uptake
Silicates cannot be absorbed but must first be converted into orthosilicic acid by weathering.
For an effective absorption a high concentration of orthosilicic acid is necessary.
With little evaporation, the plant absorption and transport of silicon is limited.
Advantages
High content of plant-available orthosilicic acid.
Combined with manganese, zinc and copper.
Can be used as foliar fertiliser and via fertigation.
Composition
Silicium (SiO2)............................................79 g/kg
Zinc (Zn) soluble dans l'eau..................11 g/kg
Cuivre (Cu) soluble dans l'eau................8 g/kg
Manganèse (Mn) soluble dans l'eau....8 g/kg
Zn, Cu et Mn complexés,
chélation 100 % par EDTA
Densité................................................................1,22
pH produit................................................3,4 – 4,4
Apparence.........................................Liquide bleu

Packaging
Packaging
Available in 2.5, 5 and 17.5 litre containers.
EC Fertiliser
Application rates
Foliar application (maximum concentration 1:200, unless stated otherwise)
Arable crops:
0,5 - 1,0 liter per hectare.
2-5x per year, during leaf development.
Tree nursery, vineyards, (small) fruits:
0,5 - 1,0 liter per hectare.
4-6x per year, during leaf development.
Lawn and pasture:
0,5 - 1,0 liter per hectare.
1-2x per year, during leaf development.
Forestry and plant nursery:
0,5 - 1,0 liter per hectare.
4-6x per year, during leaf development.
Ornamental crops:
0,5 - 1,0 liter per hectare.
4-6x per year, during leaf development.
Vegetables and strawberries:
0,5 - 1,0 liter per hectare.
2-6x per year, during leaf development.
Fertigation application
Greenhouse cultivation:
"Shot" application via a separate C-Bak. 1.0 liter minimum on 10,000 ltr. nutrition water.
Via the A-Bak 1.0 liter to 1000 liters of concentrated nutrient solution.
Apply twice a week, weekly during rapid growth.
Instructions for use
Shake or stir well before use.
Store in a cool dry place away from direct sunlight.
This product has been tested and can be stored safely at temperatures from 5°C to 25°C. Crystallisation and/or sedimentation may occur below 5°C.
Apply under suitable spraying conditions (e.g. temperature, humidity, wind speed). Do not treat if the temperature is >25°C or if it might rise to >25°C in the hours after application. Preferably perform the treatment at the end of the day. Do not apply product close to harvesting.
Miscibility and/or efficacy cannot be guaranteed when combined with any other agent. Before mixing, it is recommended to perform a test on a small scale.
Do not mix with other products in pure, undiluted form. Not compatible with products containing hydrogen fluoride. Not compatible with strongly alkaline products.
We recommend carrying out a trial application on a small area first, before applying to the entire plot.
The shelf life of the product is stated on the label. As long as the guidelines for storage are followed the expiry date (BB) on the label is guaranteed.
Back to product overview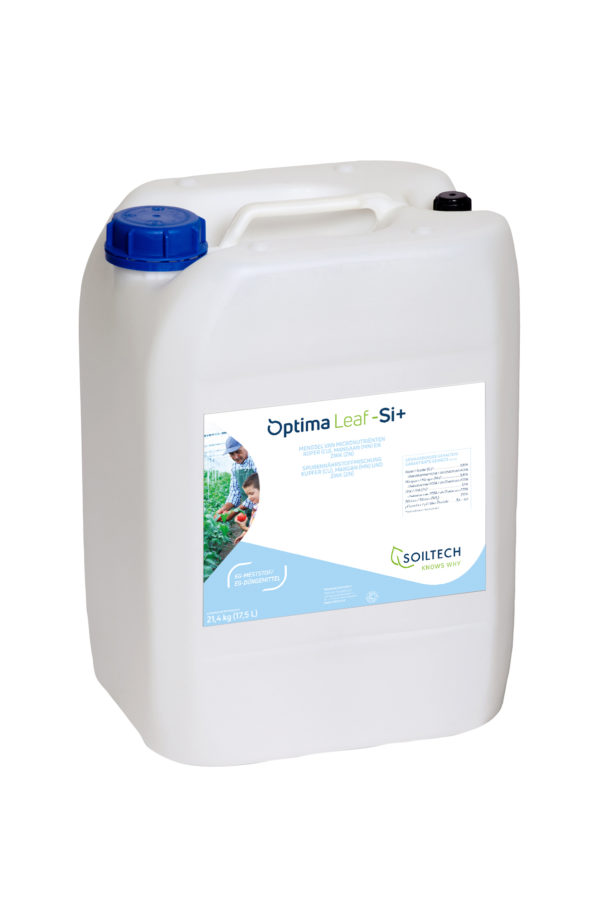 Downloads
Receive more information?
Please fill in your details and we will send you the requested information as soon as possible.
Request information
You can also call us on +31 411 64 81 05.