Back to product overview
The main function of amino acids is to simplify the plant's protein production. The energy that the plant saves in this process can easily be used for other processes. At times of stress, such as herbicide and fungicide applications, hail damage and the like, this simple protein production and energy saving are especially desirable. Using Optima Leaf-Amino in these situations will lead to better protein production, energy saving, quicker elimination of stress and thus to better growth.
This amino acid concentrate is made from specially selected plant proteins that have been converted into free amino acids by hydrolysis. Free amino acids are simple amino acids that can be directly absorbed by the plant. The higher this percentage, the better the effect. The exceptionally high percentage of 18.0% free amino acids sets Optima Leaf-Amino apart from all other amino acids.

Advantages
Protein production - amino acids are an energy-effective and quickly absorbable nitrogen source for the plant.
Stress reduction - by saving energy, the crop suffers less from the negative effects of stress.
Plant growth stimulation - several amino acids in Optima Leaf-Amino are recognised plant growth stimulators.
Chelation - amino acids are very effective natural chelators.
Composition
| | |
| --- | --- |
| Amino acids of plant origin | |
| Nitrogen (N) total | 52,5 g/kg |
| Amino acids total | 364,0 g/kg |
| Amino acids (freely available) | 257,0 g/kg |
| Density | 1,1 |
| pH | 5,0 - 6,0 |
| Conductivity | 15 - 35 mS/cm |
| Appearance | Brown liquid |
Packaging
Packaging
Available in 17.5 litre jerrycans (1000 litre containers on special demand).

Application rates
Foliar application (maximum concentration 1:100, unless otherwise specified)
Applicable in all crops.
In combination with herbicides: 1.5 litres per hectare.
In combination with insecticides: 1,5 litre per hectare.
In combination with fungicides: 125 ml per 100 litres of water.
As rapid nitrogen fertilizer: 5 litres per hectare.
Tree nursery: container cultivation: 300 ml per 100 litres of water. Repeat every 2 weeks.
Instructions for use
Shake/ stir well before use.
Store in a frost-free, dark place. At too cold temperatures (< 5 °C) the product may crystallise.
Optima Leaf-Amino can best be applied in the morning or evening, when the sun is not shining too brightly. This is to minimise the risk of crop damage caused by leaf burn. If the crop stays wet longer, the nutrients will also be absorbed better.
Do not exceed the stated doses due to the possibility of a phytotoxic reaction.
If the maximum concentration is exceeded, residue may be left on the crop.
It is advisable to first carry out a trial application on a small area, before applying it to the entire field.
Never mix products pure with each other.
The expiry date printed on the top of the packaging is guaranteed if the product is stored according to the instructions in the unopened original packaging.
Back to product overview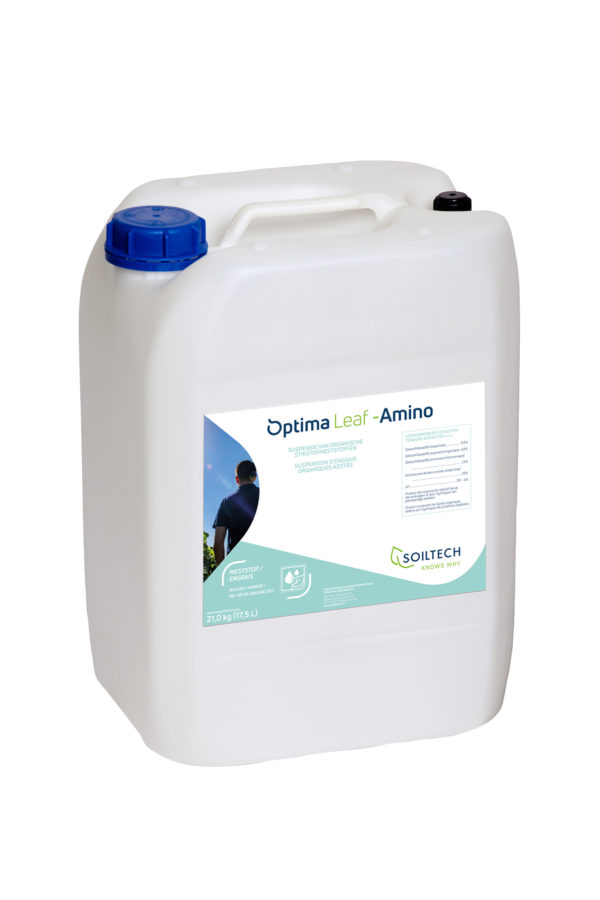 Receive more information?
Please fill in your details and we will send you the requested information as soon as possible.
Request information
You can also call us on +31 411 64 81 05.